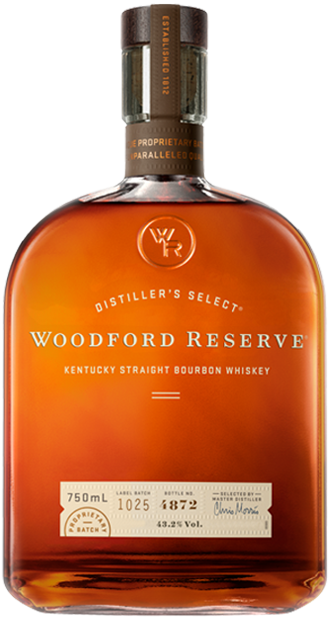 Woodford Reserve
Distiller's Select Kentucky Straight Bourbon Whiskey
Bourbon
Appearance: Clean, brilliant honey amber. Nose: Heavy with rich dried fruit, hints of mint and oranges covered with a dusting of cocoa. Faint vanilla and tobacco spice.
Taste: Rich, chewy, rounded and smooth, with complex citrus, cinnamon and cocoa. Toffee, caramel, chocolate and spice notes abound. Finish: Silky smooth, almost creamy at first with a long, warm satisfying tail.
COUNTRY:
United States
REGION:
Kentucky
PROOF:
86
SCORE: 93
CRITIC: Kara Newman
PUBLICATION: Wine Enthusiast

Look for a gorgeous copper hue with orange highlights, a butterscotch-like aroma and soft feel. This Bourbon offers lots of fruit on the palate-orange, apricot, tropical fruit-that finish long, with caramel and a bracing burnt-orange peel note.
Add to cart
Previous Page